Emsculpt Neo®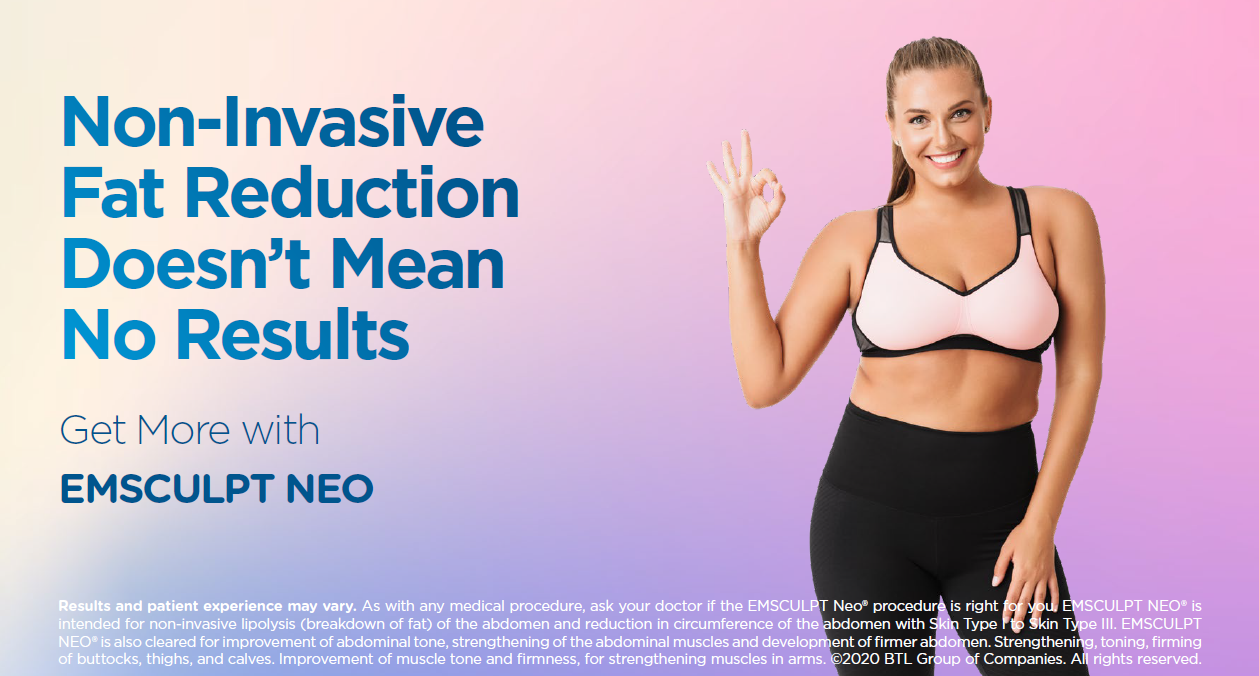 FAT REDUCTION THAT ACTUALLY WORKS!
We are all battling the bulge.
9 out of 10 men and 6 out of 10 women are interested in a fat reduction and or muscle toning treatment
Two therapies in a single treatment, EMSCULPT NEO®, have more results in less time, more body types for less cost, and more comfort with less complexity.
No needles, no anesthesia, no downtime.
Results in as little as 2-4 weeks after the last procedure.
WHAT IT TREATS
Abdomen, Flanks & Buttocks, Thighs - front & back, Arms - biceps/triceps
PROCEDURE TIME for Men and Women
Approximately 28 minutes per treatment with a recommendation of 4-6 treatments* 5-10 days apart. Your MedStudio team will help you create a treatment plan tailored to your specific goals.
RECOVERY TIME & SIDE EFFECTS
EMSCULPT NEO® utilizes a High-Intensity Focused Electromagnetic (HIFEM) technology that results in supramaximal contractions. These contractions are physically unachievable during traditional workout methods. Each EMSCULPT NEO® treatment is equivalent to approximately 20,000 muscle contractions; however, it doesn't leave you with soreness days after when you remember to stay properly hydrated.
TREATMENT COST
EMSCULPT NEO® is priced nationally, and the average is $850-$1000 per treatment, with package pricing available based on individual needs and areas of the body treated.
After the initial treatment, you can participate in our monthly Medical Gym Membership.
BENEFITS
Efficient Fat Reduction and Muscle Toning: EMSCULPT NEO offers a unique combination of fat reduction and muscle toning in one treatment, something other fat loss methods often don't provide especially with stubborn fat and muscle loss due to aging or pregnancies.
Non-invasive Treatment: Unlike some fat loss treatments, EMSCULPT NEO is non-invasive. This means no surgery and is great for those who have a busy schedule and can't afford downtime.
Time-Efficient: Each session of EMSCULPT NEO is quick, less than 30 minutes making it a great option for busy, professionally driven people.
Scientifically Proven and Safe: Our patients value expert advice and scientifically backed methods, they appreciate that EMSCULPT NEO is clinically tested and has a strong safety profile.
Improves Overall Wellness: Besides physical or outward improvements, EMSCULPT NEO can help improve the overall quality of life by enhancing posture, reducing back pain, and improving fitness levels - which aligns with the health and wellness goals of our patients.
Boosts Self-esteem: Achieving desired body goals through EMSCULPT NEO not only improves physical health by reducing fat including visceral but also contributes to mental well-being by boosting confidence and self-esteem.
ACHIEVE YOUR GOALS OF:
· improved physical appearance & increased confidence
· enhanced health and well-being
· restored muscle tone and loss of stubborn fat, including visceral
· increased energy and motivation
· improved intimate relationships
· body-shaping and toning and a transformation fat loss journey of a lifetime
It's not just a treatment; it's a catalyst for transformation. Embrace the possibilities, trust in the process, and allow EMSCULPT NEO to guide you toward a future where you radiate confidence, exude vitality, and live on your terms.
The inspiring results are real.
*people with higher BMI will need more sessions to achieve desired results.